lancaster Brewing
Blessed with fresh country air, pure water and arguably the richest, non-irrigated farmland in the world, Lancaster is a place where your hand-shake means something and where genuine craftsmanship, artisan quality and stubborn self-reliance remain part of everyday life.
At Lancaster Brewing, we unite our obsessive commitment to quality ingredients with creativity, skill and experience, to brew consistently great and approachable ales and lagers. Inspired by 300 years of local brewing history, we are proud to brew in the heart of Lancaster County, alongside scores of old-world craftsmen, farmers working more than 5,300 independent local farms and our fiercely independent Amish neighbors.
By producing Lancaster's first commercially brewed beer after nearly 40 years, we are proud of the role Lancaster Brewing Company has played in the renaissance of Lancaster's incredibly rich and colorful brewing history.
 Brewing in Lancaster originated with the region's original British settlers in the early 1700's through the introduction of rustic, flavorful ales brewed in the back rooms of inns and taverns. German immigrants later introduced lager style brewing, building a thriving industry that, by 1810, produced over 200,000 barrels of beer annually, accounting for 7% of all beer brewed in the US. Lancaster's quality beers earned a reputation for excellence, winning considerable praise. Beer brewed by Rieker Brewery was a favorite of renowned Baltimore Sun columnist and social satirist Henry L. Mencken, who wrote, "Lancaster in America occupies the same position of Munich in Germany in regards to the brewing industry." further noting, "the fame of Lancaster beers has spread across the whole Union."
 World War I led to the eventual shuttering of 14 thriving Lancaster breweries. Directed by the war effort to end the use of coal for brewing, Lancaster's breweries were forced to stop brewing legally in November 1918, well before the 18th Amendment took effect in January 1919. During prohibition, brewing continued secretly under the noses of local public officials, many of whom were paid to look the other way but, by 1930, federal agents began to crack down, forcing brewing underground-literally. At the corner of West King and Pine Streets in 1932, a city worker discovered a hose in the sewer that ran downhill from Rieker Brewery to a warehouse on Water Street, where it supplied a secret keg filling operation. When Prohibition finally did end in 1933, Lancaster County breweries resumed legitimate operations but, one by one, bowed to economic pressures and competition from newer, automated breweries opening in the mid-west. Lancaster's last commercially produced beer was brewed in July 1956, commencing a 39-year disruption of Lancaster's celebrated brewing tradition.
 That is until Lancaster Brewing Company's doors opened in the historic Edward McGovern Tobacco Building at 302 N Plum Street, where the Keares Family still operate to this day. "The large red brick building stands out, not only as a beacon of excellence for the beers we brew today, but as a tribute to the legendary brewing history for which Lancaster is so highly regarded."
Brewing Since '95 innovating every day
the GRAIN
We use superior quality, non-gmo grains, including 2 row barley base malt, along with an array of the finest specialty grains from around the world to brew approachable, well-balanced, flavorful beers.
the HOPS
Hops are much like the spices in a Chef's cooking… when to add, how much and how long to infuse them is an art. We source the freshest, highest grade hops from the Pacific Northwest, Europe and even a few local growers to give our beers exceptional aroma and flavor.
the YEAST
Utilizing proper yeasts for the perfect flavor profile is a science. Yeast strains allow us to control the subtle taste profiles to deliver clean tasting lagers, funky ales, aromatic saisons, tropical fruit forward hazy IPA's and complex barrel aged creations.
the WATER
The main ingredient in beer, we're fortunate to have pure water with an excellent mineral profile for brewing. Our state of the art filtration system insures great taste and prevents any contaminants from entering the brewing process.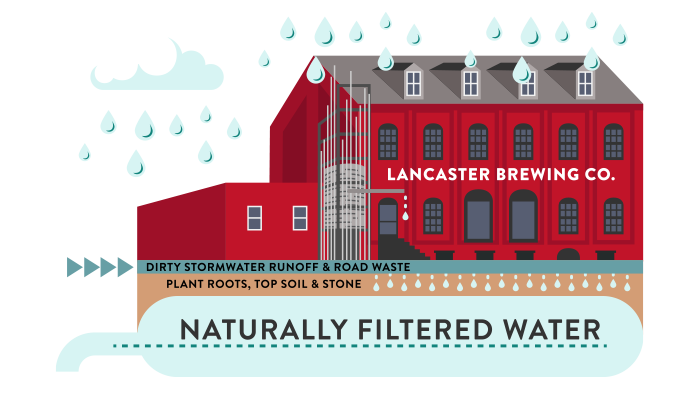 BUILT ON GREEN INFRASTRUCTURE
In conjunction with the City of Lancaster's Green Infrastructure plan, we have transformed our south facing exterior into a stormwater collection zone. Rain gardens, a patio with permeable pavers and a 750 gallon, 35' tall cistern all help to prevent millions of gallons of stormwater runoff from flowing into our local waterways, and ultimately the Chesapeake Bay. Our cistern, titled "The Lancaster Gateway Bundle" is a public artwork created by Austin+Mergold, that conceptualizes a grain silo, paying homage to Lancaster's brewing culture and agricultural roots.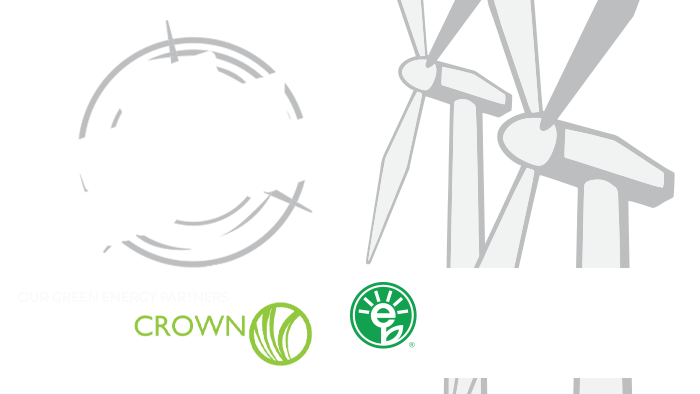 ENERGY SUSTAINABLE BREWING
We've partnered with GREENCROWN® Energy to secure Renewable Energy Certificates (RECs) that account for each unit (MWh) of power we use here at the brewery. These credits support wind powered electricity production, so you can rest assured that every great meal along with every Lancaster Brewing Company brew you know and love is produced with 100% renewable energy.
UNFORTUNATELY, DUE TO THE CONSTRUCTION OF OUR NEW DISTILLERY OPERATION, BREWERY TOURS ARE TEMPORARILY UNAVAILABLE.
MONDAY – FRIDAY at 1 pm by appointment only

Please call the restaurant at 717-391-6258 Ext. 1 and our hostess will assist you with making a reservation.
SATURDAY & SUNDAY at 3 pm
(Gather at the bar and grab a beer. We will make an announcement at 3 pm for the tour to begin)
Due to the layout of the brewery you are able to see the brewing operations from the bar and restaurant while immersing the senses in rich flavors and aromas while we brew. Tours are available at the Lancaster location only.
GET IN TOUCH
LANCASTER BREWING CO.
(717) 391-6258
303 North Plum Street
Lancaster, PA 17602
VISIT US
We are located on the corner Walnut and Plum Streets in Downtown Lancaster, PA
BREWERY HOURS
Mon-Fri: 7am – 3pm
Sat: Closed
Sun: Closed