BREWING SINCE '95
INNOVATING EVERY DAY
Brewed in Lancaster since 1995, we're proud to present America's original Milk Stout. Notes of coffee and chocolate play counterpoint to mild hop, and subtle sweetness from the addition of milk sugar.
ABV: 5% | OG: 14 | IBU: 25
You're in for a hard charging, yet remarkably drinkable brew in our Hop Hog IPA! Delivering layered citrus hop flavors and a solid malt profile, we doubled down on the dry hopping for even more fresh hop character.
ABV: 6% | OG: 16 | IBU: 60
If you enjoy smooth, delicious craft beer, look no further than our award winning Strawberry Wheat! This American Wheat is brewed with a touch of natural strawberry flavor for a truly refreshing flavor experience.
ABV: 4.7% | OG: 11 | IBU:25
Don't miss out on the intense roasted malts and silky smooth mouth feel of our 2X Chocolate Milk Stout. We went over the top with the infusion of pure chocolate for a truly otherworldly chocolate stout.
ABV: 6.8% | OG: 18 | IBU: 33
Who doesn't love a playful, great tasting IPA? Our crisp Hop Belly IPA really delivers the hops. Brewed with Simcoe, Falconer's Flight and El Dorado; Hop Belly offers a session IPA that's perfect anytime!
ABV: 4.5% | OG: 10 | IBU: 45
We brew our Peanut Butter spiked English Ale with rich malts and loads of natural peanut butter for a unique brew that delivers the unmistakable flavor and aroma of fresh roasted peanuts.
ABV: 6.5% | OG: 15 | IBU: 19
Combining a smorgasbord of malts with the best of domestic and imported hops, this full-bodied Amber Lager is malt forward and easy to drink.
ABV: 5.5% | OG: 14 | IBU: 28
Lancaster Lager shines as a true example of traditional American lager. Clean malt flavors, smooth body and excellent hop balance, deliver an incredibly satisfying and drinkable session brew.
ABV: 4.9% | OG: 11.5 | IBU: 15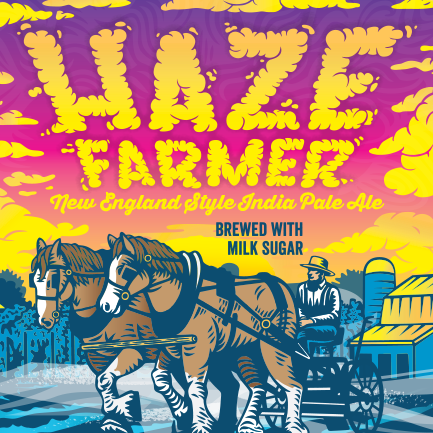 Hazy and jam-packed with fresh hop aromas and flavor! We use citra and mosaic hops throughout brewing and fermentation, then bypass filtration, to intensify the pure, juicy hop essences of grapefruit, citrus, straw and tropical fruit.
ABV: 7.5% | OG: 15 | IBU: 12
AVAILABLE FEBRUARY
Our version of a traditional Irish Amber Ale combines the richness of malt with delicate and spicy British hops for a taste worthy of the Red Rose City.
ABV: 5% | OG: 14 | IBU: 16
AVAILABLE MARCH
Just how awesome can a Shandy be? We use natural lemon and blueberry flavor, with pure cane sugar, for a zesty, refreshing and incredibly uplifting experience in taste!
ABV: 5% | OG: 10.5 | IBU: 5.1
AVAILABLE APRIL
Our tribute to the traditional beer of Cologne, Lancaster German Style Kölsch offers clean malt flavors from extended cold lagering and a noble hop character.
ABV: 5.1% | OG: 12 | IBU:35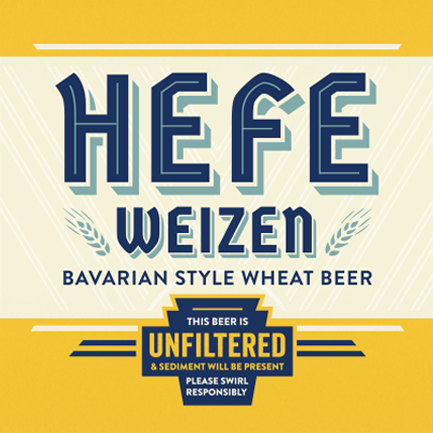 AVAILABLE APRIL
We start with the finest quality white wheat and Bavarian Ale yeast, then pack it unfiltered, to optimize the subtle citrus, fragrant banana and spicy clove notes, resulting in a mildly hazy, extraordinarily refreshing brew with or without a lemon.
ABV: 6% | OG: 14 | IBU: 14
AVAILABLE APRIL
Cerveza "Beer" is light in color with soft spice, tea and green fruit notes from the addition of perle hops. A truly cool, refreshing, easy drinking brew, with or without a lime.
ABV: 4.7% | OG: 10.5 | IBU: 22
AVAILABLE APRIL
Cheers to our uniquely delicious, ludicrously refreshing and easy drinking mildly tart ale… Brewed with white wheat, blood orange, lime peel and pink Himalayan salt.
ABV: 4.9% | OG: 11 | IBU: 6
AVAILABLE AUGUST
Five malts, three varieties of hops and authentic Bavarian Lager yeast, go into making our Oktoberfest an incredible Lager drinking experience. Prost!
ABV: 5.5% | OG: 13.5 | IBU: 18
AVAILABLE AUGUST
Have your pie and drink it too! Bold in flavor with a deep amber color, our big Baked Pumpkin Ale is sure to remind you of Grandma's pumpkin pie.
ABV: 7.5% | OG: 17 | IBU:20
AVAILABLE NOVEMBER
Our Winter Warmer redefines full-bodied, with its monster malt bill, delivering deep, incredibly developed malt richness and a 8.9% ABV, the jolly warming finish.
ABV: 8.9% | OG: 20.5 | IBU: 25
AVAILABLE JANUARY
Infused with dark, locally roasted, small batch coffee from Lancaster County Coffee Roasters, this Imperial Milk Stout is one smooth coffee laden maiden we named Jo.
ABV: 8% | OG: 19 | IBU: 38
ASK FOR AVAILABILITY
Bursting with uplifting hop aroma and citrusy resin goodness; Our big bad Boss Hog 2XIPA delivers a clean, full-bodied mouth feel to truly show its prodigious hoppiness.
ABV: 9% | OG: 20 | IBU: 70
ASK IF AVAILABLE
Made with pure apple juice and pilsner malt, Bobbly Head is clean, tart and incredibly refreshing, with bright green apple flavors and aroma, and a cider-like finish.
ABV: 6% | OG: 13 | IBU: 0
AVAILABLE SEPTEMBER
Brewed with pure local molasses, our Porter delivers toasty malt, dark molasses and subtle vanilla bean that bring to mind homemade Pennsylvania Dutch shoo-fly pie.
ABV: 6.2% | OG: 15.2 | IBU: 25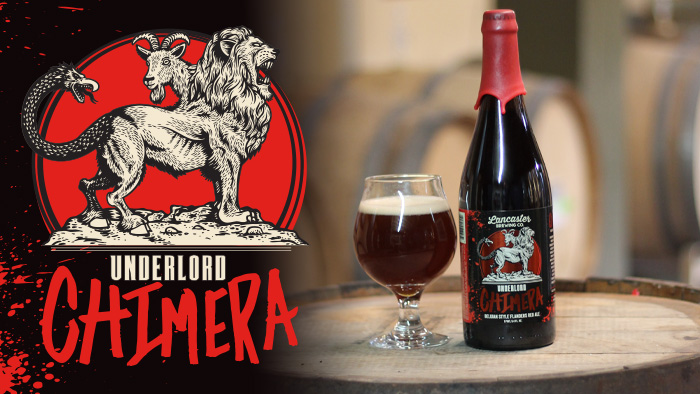 UNDERLORD CHIMERA
A truly unique Belgian style Flanders Red Ale, aged on apricot puree, in pinot noir barrels for 19 months, resulting in a complex union of ripe cherry/pinot noir flavors and aroma, with notes of apricot and tart candy, interlaced with subtle Belgian ale yeast and light oak undertones.
ALC. BY VOL. 7.5%  |  IBU: 15  |  OG: 16.8
JAM SERIES
THOUGHTFULLY IMPROVISED
Jam Series #1 – Unfiltered & Dry Hopped IPA
Jam Series #2 – Lepzig-Style Gose
Jam Series #3 – India Pale Lager
Jam Series #4 – Blonde Stout
Jam Series Track #4 Remix – Bourbon Aged Blonde Stout
Jam Series Track #5 – Peanut Butter Ale
Jam Series Track #6 – India Red Ale
Jam Series Track #7 – Dunkelweizen
Jam Series Track #8 – Papaya Milkshake IPA
Jam Series Track #9 – Multigrain Pale Ale
Jam Series Track #10 – Unfiltered IPA
Jam Series Track #11 – Berry Berliner Weisse – Sour Wheat Ale conditioned on Raspberries & Blackberries
Jam Series Track #12 – Honey Lemon Saison – Belgian Saison brewed with Lemons, Lemon Zest & Local Orange Blossom Honey
Jam Series Track #13 – Dry Hopped Sour
Jam Series Track #14 – Dry Hopped Sour IPA
Jam Series Track #15 – Brut IPA
Jam Series Track #16 – New England Style IPA
Jam Series Track #17 – Dry Hopped Wheat Lager
Jam Series Track #18 – India Style White Ale – Ale Brewed with Orange Peel and Coriander
Jam Series Track #19 – Smoked Chili Baltic Porter – Brewed with Beechwood Smoked Malt, Guajillo and Chipotle Peppers
Jam Series Track #20 – Eggnog Blonde Ale –Brewed with Nutmeg and Milk Sugar
Jam Series Track #21 – Smoked Chili Baltic Porter  –Brewed with Beechwood Smoked Malt, Guajillo and Chipotle Peppers
Jam Series Track #22 – Mexican-Style
Jam Series Track #23 – Lemongrass Kellerbier – Lager Brewed With Lemongrass